Fly Fish

Florida Keys & Louisiana
Book the trip of a lifetime to America's premier saltwater destinations.
Whether you're looking to target the aggressive redfish in the Louisiana marsh or hoping to stalk bonefish in the Florida flats, Saltwater Fly Guides and Capt. Dave Yoder will guarantee a saltwater fly fishing experience of a lifetime.
Hook, Line, and Sunshine
Florida Tarpon & Everglades Fly Fishing
I

 Louisiana Trophy Redfish
Redfish in the Fall, 
Tarpon in the Spring
Capt. Dave splits his time between the fly fishing meccas of Hopedale, La. and Key Largo in the Florida Keys depending on the time of year. These two world-class fisheries provide fly fishing anglers with an incredible diversity of saltwater game fish.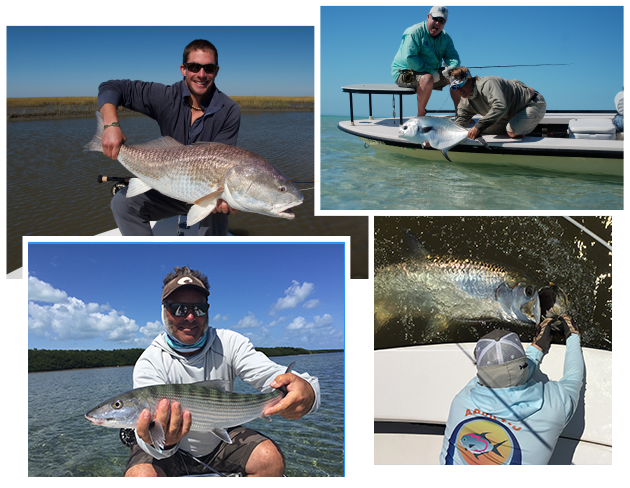 Florida

Tarpon, Permit & Bones
By early winter, Capt. Dave is in his home waters in the Florida Keys where he has perfected the art of stalking tarpon, permit , and bonefish in the open waters of the Islamorada area.
If you're looking for something off the beaten path, Capt. Dave specializes in backcountry fishing within the inland waters of the Everglades National Park where redfish, snook, and juvenile tarpon are plentiful, creating abundant angling opportunities.
Louisiana

Red Drum on the Fly
The two to three-month season offers multiple opportunities to target these voracious predators that are renowned for their hard strikes and bull-like fighting on the fly rod. 
Located less than an hour from downtown New Orleans, the Hopedale marina is the launching point for day trips into the "Marsh," a seemingly endless labyrinth of interconnected lagoons and bays and snaking tidal channels formed by the intermixing of the freshwater from the Mississippi River delta area and saltwater from the gulf region.
Capt. Dave has been fishing these waters for more than ten years studying migration patterns and feeding habits of the native red drum that grow to more than 40 pounds.
Book to Hook
Many of Capt. Dave's anglers are return clients. Openings fill fast. Book now to lock in your chance for the trip of a lifetime.
Plan Your Trip
Weather and fishing can be unpredictable in the Keys and the Marsh. Capt. Dave recommends that anglers consider booking a multi-day window to ensure that they have an opportunity to experience the most favorable conditions. Many clients opt to fish three days to account for variations in weather and fishing conditions.